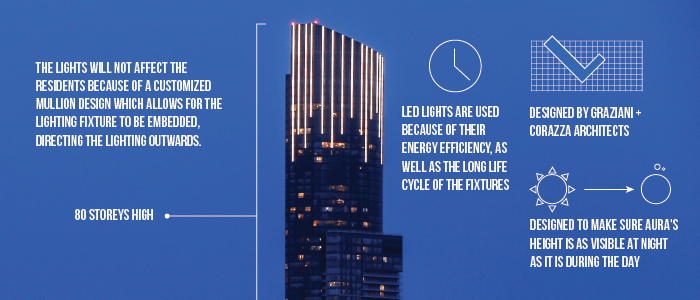 This amazing image, taken by James Bombales, has all the information you need about Aura's lights which have been illuminating downtown Toronto for the entire summer. Now you'll be able to see the incredible height of our building, no matter what time of day. We've seen so many photos shared on Twitter and Instagram from all over the city and they're all amazing. We can tell the whole city is as excited as we are about the lights and we thank you for all the images and positive comments.
Those of you who already live in Aura know how great this summer has been on our outdoor terrace. We love seeing all of you mingling and enjoying every part of the terrace to its full potential – relaxing by our water display, lounging on the sofas by the fireplace, cooking on the barbecues, and hosting get-togethers with friends. If you haven't gotten a chance to go and check it out, take full advantage of the last couple weeks of summer and spend some time out there!
If you're interested in living at Aura we have 2 fully furnished stunning top floor penthouse suites left, all of them over 2000 square feet and located on the 79th floor. All three penthouses have spectacular views of the city, access to our unbelievable amenities like Hard Candy Fitness Toronto, and use of our amazing terrace, party rooms and other incredible amenities. Believe us when we say all your neighbours will be looking up to you. Our beautiful palaces in the heart of the Toronto skyline won't be around for long so if you're interested in a private tour, contact our new presentation centre! We are moving October 9 to Penthouse 7910 in Aura at 388 Yonge St., Toronto ON. Hours of operation are Monday to Thursday 12-6pm. Saturday, Sunday and Holidays 12-5pm. Fridays by appointment only. Contact 416-962-8688 [email protected].