Join Guy Lafleur at the Tour des Canadiens Phase 2 Grand Opening this weekend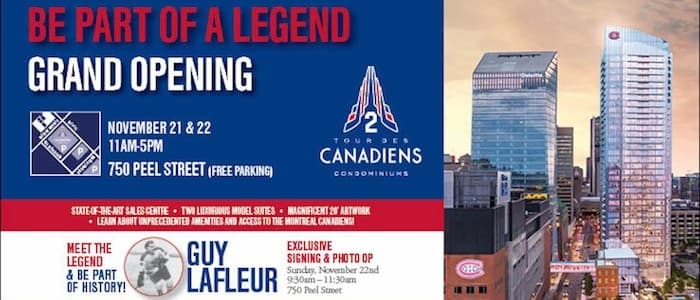 This weekend is going to be huge!
We're excited to announce that the Grand Opening of the incredible Tour Des Canadiens Phase 2 sales centre in Montreal is happening this Saturday, November 21st and Sunday, November 22nd. For the first time ever the brand new sales centre will be open for the public to come in and explore the details of our building, amenities, floorplans, and the perks that go along with living here.
You'll marvel at the incredible art installation by Eventscape, which is a beautiful focal point inside the sales centre. The piece was created in partnership with HUMA Design and Montana Steele and calls attention to the visionary and contemporary design of the tower. It's composed of steel and white aluminum with integrated LED lighting, and is 20 feet tall. It's truly incredible.
We'll also have a stunning model of the Tour Des Canadiens Phase 2 building as well as two fully furnished and life-sized model suites, so you can really get a taste of what the interior of the building has to offer.
Our special guest of honour, Montreal Canadiens legend Guy Lafleur, will be joining us at the sales centre on Sunday, November 22nd from 9:30am to 11:30am. Be sure to stop by then so you can get an autograph from one of the most famous Montreal Canadiens players in the NHL.
The sales centre is located at 750 Rue Peel, at the corner of Saint-Antoine O in downtown Montreal.
We can't wait to show you what else is in store. Be sure to ask about our special offers and incentives for purchasers when you're at the sales centre this weekend. See you there!