Life will be cleaner and greener in Toronto's Forest Hill neighbourhood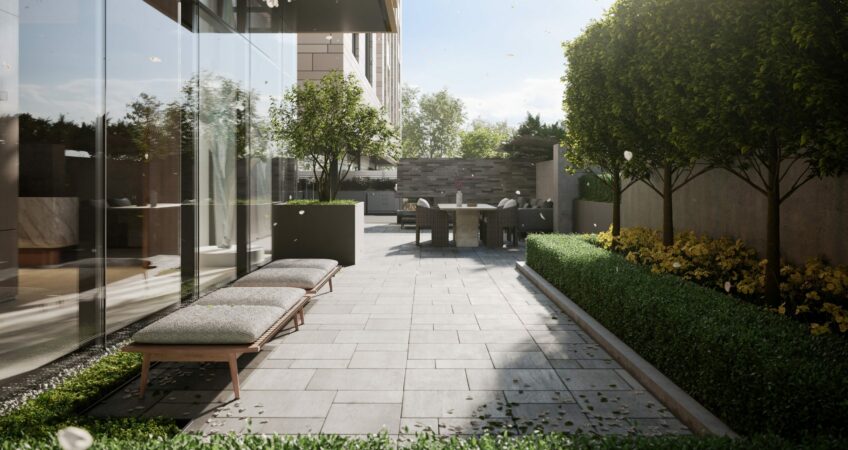 Today's climate crisis has vaulted sustainability to the top of the homebuilding industry's list of priorities. There's an increasing awareness shared between homeowners and homebuilders that cleaner and greener, more energy-efficient homes increase homeowner comfort, save residents growing energy costs and, most importantly, help the planet as a whole.
Canderel has embraced the concept of green homebuilding in a variety of ways, and this is especially true in the development of Forêt™ in Forest Hill – one of the most coveted neighbourhoods in Toronto. Soon to rise gracefully along the St. Clair streetcar right-of-way at Bathurst, this modern three-tower community will incorporate a variety of the latest sustainable homebuilding innovations for a more future-friendly tomorrow.
One of the community's most elegant green homebuilding features will be evident from a bird's eye view, with the roofs carpeted in attractive enviro-friendly greenery. Green roofs help to moderate the temperatures on the roof's surface and surrounding areas. Plus, approximately three-quarters of the greenery planted on Forêt™'s roofs will be drought-tolerant and native.

As a centrally located neighbourhood, Forest Hill is very walkable and bikeable and has exceptional access to public transit. Forêt™ takes these benefits into consideration with over 1,000 long-term and short-term bicycle parking spaces. The condominium also generously incorporates the "new reality" of eco-friendly transportation with dedicated low-emission vehicle parking, car-share stalls, 145 electric vehicle (EV) charging stations, rough-ins for EV charging in all parking stalls and even rough-ins for e-bike charging. Whatever green mode of transportation moves you, Forêt™ delivers.
Forêt™'s heating and cooling systems are also incredibly sustainable. Canderel has gone the extra-green-mile to plan* for a geothermal heating and cooling system for the development's energy use. Geothermal technology is a new and innovative energy-conservation system that stores and transfers thermal energy between the ground and the building to reduce the dependence on fossil-fuel-generated heating and cooling. The ground is an incredible, naturally available insulator; it's cooler than the air in the summer and warmer than the air in the winter. Geothermal technology uses this fact to the homeowner's advantage, drawing heat or cool from the ground when needed instead of relying on natural gas or electricity.
Every luxurious Forêt™ suite comes equipped with a smart thermostat. A smart thermostat utilizes AI to understand the temperatures you like to keep in your home, and when, and automatically adjusts to energy-saving temperatures when you're asleep or at work to help you reduce your energy usage. Eco-conscious homeowners can also access the smart thermostat's data and insights to track their energy use and find ways to manage their consumption even better.
Forêt™ also takes today's growing need for outdoor community spaces to heart. A new park and urban square will be built at Bathurst and St. Clair designed to bring everyone together, safely, for socialization, recreation and to enhance their connection with nature. Forêt™ is exactly the future-friendly condominium development Toronto, the GTA and beyond needs and craves – a community that empowers residents to enjoy a greener and healthier lifestyle, today and tomorrow.
*It is intended to arrange for installation of a geothermal heating and cooling system to serve phase 1 of this Project. If it is determined by the Declarant that the installation of the geothermal heating/cooling system is not feasible, phase 1 of the Condominium will be heated/cooled with a conventional centralized boiler, cooling tower and related equipment.