"DE STIJL PAPILLON": AN ODE TO HOCKEY AND MODERN ART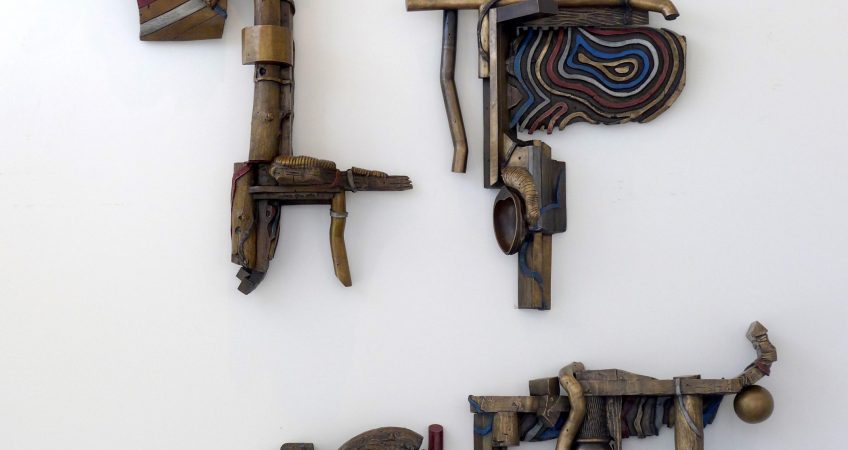 Canderel put out a call for public art submissions for local artists to create a piece to be featured at the Tour des Canadiens 2 & 3 condominium development as part of our commitment to enrich the communities we create.  We received many entries, ultimately picking David Armstrong's piece for its modern esthetic and its ode to the sport of hockey. David Armstrong VI is represented by the gallery Bradley Ertaskiran in Montréal and has exhibited his work widely throughout Canada, the USA, Europe and New Zealand.
To learn more about him and his piece "De Stijl Papillon", we sat down (virtually of course!) with artist David Armstrong VI for a little Q&A:
Tell us a little about yourself.
I am an artist living and working in Montréal.  Since 1996, I have been exhibited widely throughout Canada, Europe and the United States; including shows at the National Gallery of Canada, Kunstallen Nikolaj in Copenhagen, and Night Gallery in Los Angeles.  My work has been widely recognized, receiving several prestigious scholarships and awards, and may be found in numerous private and public collections internationally.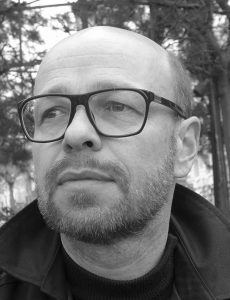 How did you come up with the concept for this piece/what was your inspiration?
The sculptures created for the ¨Tour des Canadiens¨ are an extension of my current thinking on history, process, and poetry.  There are three distinct strands of inspiration that constitute the works and activate some semblance of gestural figuration: specifically as an evocation of dance and musical notation (in reference to the site as a hotbed of jazz activity in the 1930's and 40's), athleticism (alluding to its current proximity to the home of the Montréal Canadiens), and geological formations in dialogue with the unique foundations of the site itself.
The collective title of the two works, ¨De Stijl Papillon¨, operates as a humorous host to harbour all three influences as a dovetailed point of dialogue.  Immediately it refers to a style of hockey goaltending that emphasizes low-level lateral movement and acute athleticism, made famous by the Montréal Canadien's goaltender Patrick Roy, who arguably reshaped the way the game of hockey is played through his crafty dedication to ¨le style papillon¨ as a seminal defensive technique.  On a secondary level, it conjures the ¨De Stijl¨ movement in modern art which foregrounded primary colours and graphic prowess. This particular style is often regarded to be emblematic of the very jazz era that enveloped Montreal in a cosmopolitan glory on par with New York.  Finally, it evokes nature and an element of morphosis through the insinuation of fossilized elements, shifting formations, and rock-face strata, alluding to the very unique bedrock of sandstone and carbonate from the Cambro-Ordovician age in Montréal that constitutes the sloping landscape upon which the ¨Tour des Canadiens¨ is currently constructed.
Inevitably, the two works took the form of anthropomorphic portraits in honour of two Montréal Canadien goaltending greats: the bas-relief wall work dedicated to Jacques Plante, and the free-standing floor sculpture in honour of Patrick Roy.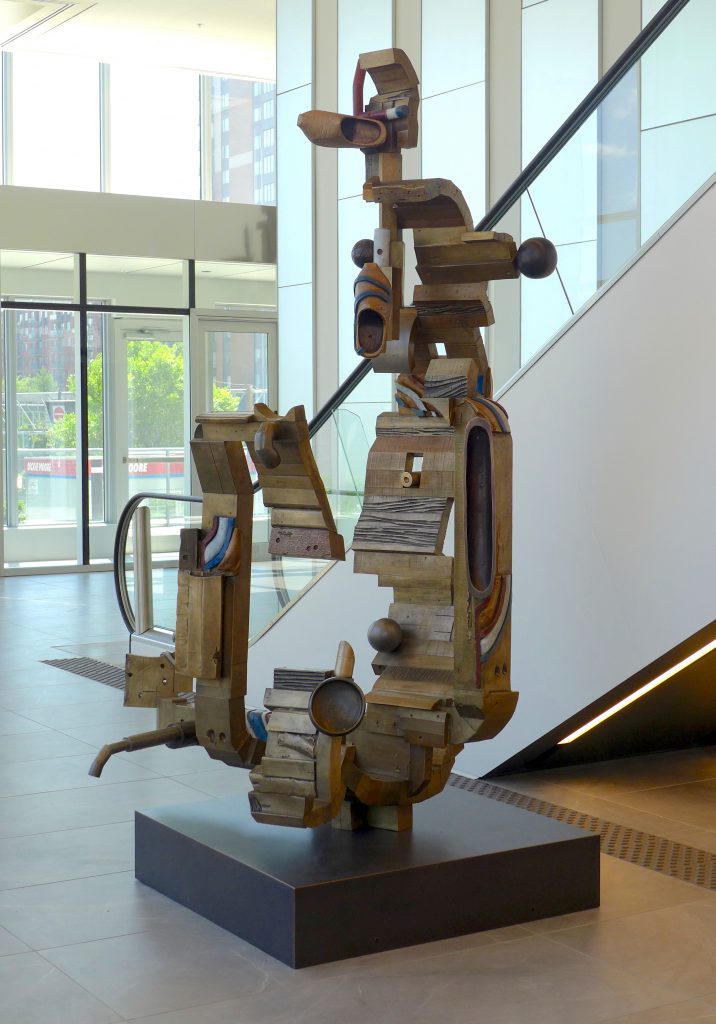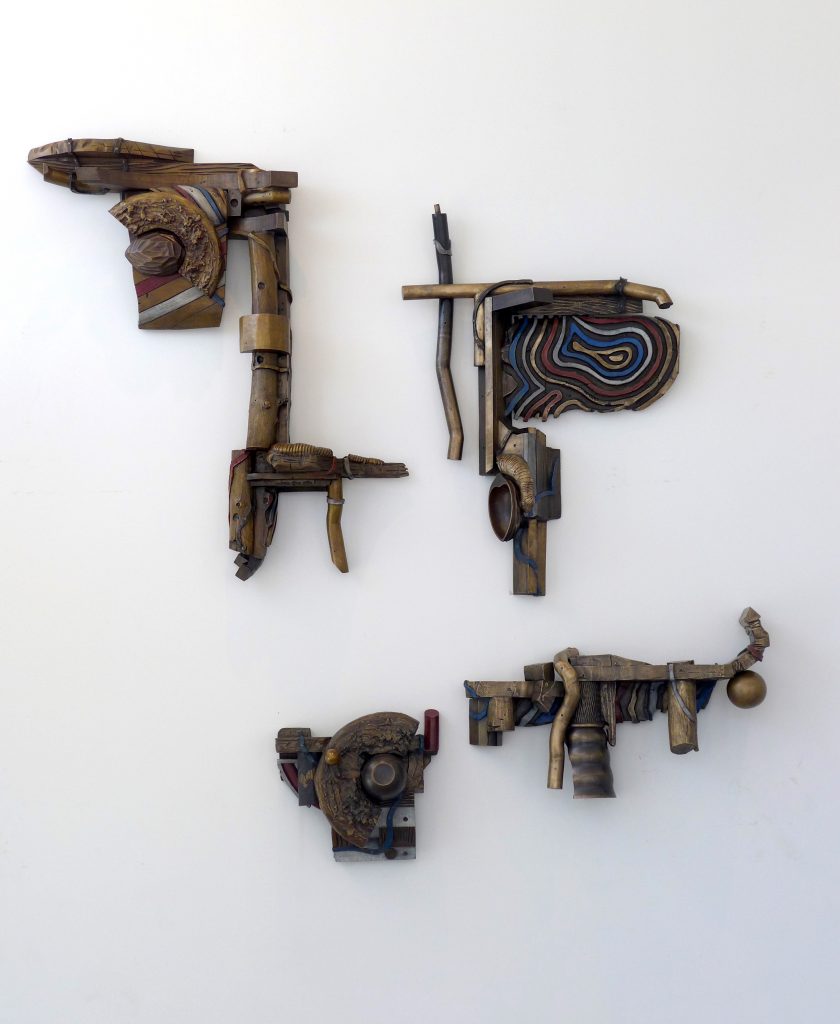 How is a piece like this constructed: from design to installation walk us a little through the project.
I spend a lot of time building the concept of the work through drawings, three-dimensional models, and material experiments. Once I have established a rough gestural sketch for the sculpture, a large part of the process is spent constructing individual sections, which may be carved in wood or cast in plaster, then arranging them in a pleasing manner towards a provocative composition. For me, this translation into a full-scale, "positive" model is a very significant and nuanced part of the process, which was negotiated in the studio over the course of four months, wherein the construction and the sum of its individual parts become part of the overall story.  In this case, it was very important that the sectional construction of the works encourage multiple points of view and lend themselves to a plethora of interpretive possibilities, with structural allusions to goaltending equipment (padding, masks), geological strata, and dance.
Once satisfied, the positive model forms were then shipped to the esteemed Atelier du Bronze, in Inverness Québec to begin their process of being cast in bronze.  This phase of fabrication is based on a very classical form of casting which requires an enormous amount of experience and skill: so this entire part of the process took approximately six months to complete.  First, the positive models are broken down into sections, (in this case there were 62 individual components comprising the two works).  A mold is made of each section, which is then cast in solid wax, a ceramic mold is then made of this, which facilitates the pouring of molten bronze as the final form.  This system of casting meticulously replicates the ¨positive¨ model forms, so the cast bronze version inevitably includes all the residue of material textures and surface markings inherent to the original process of making.
In terms of colouration – I applied a series of coloured patinas and classical finishes on the final bronze form which simultaneously allude to nature, modernism and the ¨Bleu, Blanc et Rouge¨ of the Montréal Canadiens.  The range of nuanced hues plays with the abundance of natural light on-site, generating a pleasant optical experience while enhancing the lobby area of the "Tours des Canadiens" as a stimulating threshold and point of passage.
Canderel deeply values and works to introduce creative pieces into our development projects. The firm has focused its activities on the acquisition of existing properties and on new development projects. Canderel has concentrated its efforts principally on office, industrial, retail, residential condominiums and mixed-use projects. The company's residential division has developed iconic condominium lifestyle buildings that exude luxury in prime Toronto locations. Included in this esteemed list are Aura Condos, The Residences of College Park, DNA Condos in King West, Stoneridge Estates, The Yacht Club, The Waterford and Waterford Towers, Newport Beach and Massey Harris Lofts. In Montreal, Canderel is the developer of the highly successful Tour des Canadiens development. The company has received significant awards and accolades over the years from prestigious industry groups such as BILD, UDIQ, BOMA, LEED and OHBA.
Register today to stay up to date on all our projects!