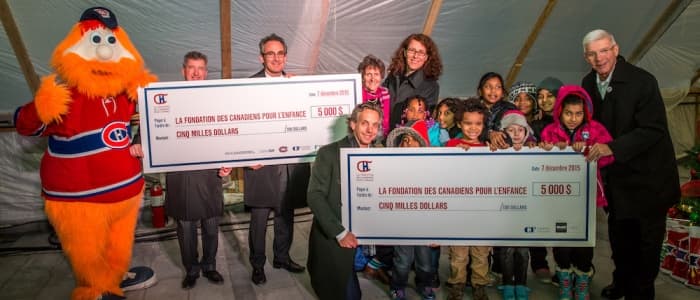 We ended 2015 in Montreal with record breaking success and excitement for Tour des Canadiens Phase 2. To start the new year, TDC2 has been awarded Gold for Attached Community of the Year at the National Sales and Marketing Council Awards (NAHB). Canderel also acheived a major construction milestone for Tour des Canadiens Phase 1 which was celebrated with a memorable ceremony at top of the tower! We're excited to share these exciting advancements. Read on for more details!
Tour des Canadiens 2: 2016 NAHB Attached Community of the Year
We put so much effort into making sure the fall 2015 launch of Tour des Canadiens 2 was a phenomenal success and a force to be reckoned within the Montreal condo market and it's paid off! Just recently, TDC2 was awarded Gold for Attached Community of the Year at the 2016 National Sales and Marketing Awards and we couldn't be happier. We are the first residential developer in Montreal's history to be honoured with this award making it a huge achievement for our team and our city!
The NAHB awards are an annual ceremony that celebrates excellence and innovation in sales and marketing across North America and showcases the best of the best in the building industry. With over 1,300 submissions in 57 categories to the NAHB awards this year, it's a testament to our passion in building world class communities.
The incredible Tour des Canadiens Phase 2 sales centre is located at 750 Rue Peel. We've created two beautiful model suites outfitted with our stunning features to give you a real sense of what living in the building would be like. We can't wait to have you come visit and experience it for yourself! If you haven't been already, we encourage you to visit the state of the art sales office and take advantage of our selection of suites remaining. Keep up with all things TDC2 online at tourdescanadiens.com.
Tour Des Canadiens Phase 1: The Rooftopper
Since starting construction on June 10, 2013, Cadillac Fairview, the Montreal Canadiens, the Fonds de solidarité FTQ, and Canderel's biggest Montreal project to date has reached an important milestone. On December 7, 2015, Tour des Canadiens Phase 1 celebrated its topping off with a ceremony held on the 50th floor of the building. Phase 1 of Tour des Canadiens was an unprecedented success, proving to be the fastest selling real estate project in Montreal's history. The imminent completion of the 50-storey structure marks a major step in the project's construction and the development of the Quad Windsor community in downtown Montreal.
To help celebrate the topping off and as a commitment to our great community, we donated $10,000 to Montreal Canadiens Children's Foundation, a charity which supports various communities and focuses on the well-being of children in Quebec. We're happy to know that money is going to a great cause.
You can keep up with the progress at Tour des Canadiens Phase 1 by watching the live construction camera right here.
Aura Condos: Living High in the Sky
Did you know that there's a major revitalization in the works for the park behind our building? We're currently waiting on finalized plans from the City of Toronto, but demolition of the building on the site is slated to commence in early 2016, with the remainder of the plans to roll out in 2017, and as soon as possible after the neighbouring property completes some essential waterproofing repairs to the structure beneath the park. We are very excited that city approvals are now coming through.
If you haven't had a chance to read the latest article on Aura, click here to learn about the iconic project and the making of Canada's tallest residential condominium. With over 9 years of hard work and innovation Canderel has changed Toronto's skyline forever.
YC Condos: Construction Update
After an amazing year at YC Condos, construction is now steadily progressing, which is easy to see from street level at Yonge and Grenville. We've commenced excavation to the fourth row of tie backs and we're working on getting hydro to the site. If you want to keep up with our construction updates without leaving your home this winter, just check out our live webcam overlooking the site! It will feel like you're right there with our amazing construction team.